Hey buddy! are you wondering if you can make money out of blogging? If you are into blog writing and thinking about ways to generate revenue from it then, you are at the right place, my friend. If you think blogging is just a hobby then you should think again. Instead, just stick with us and we'll make it clear for you.
Well, blogging can be a fulfilling hobby and is a great way to express your passion for a particular field or subject. But you are losing an opportunity if you don't know how it can a be a great way to make money, be it as a side hustle or as a full-time career. In this blog, we'll take a deep dive into this topic and will learn different ways to generate business out of your blogging website.
Well, blogging isn't a very easy way to make money but all you need is to have enough patience and dedication to make effective blogs and build traffic and a following. Once you've got your blog up and running, it's high time for you to start looking into ways to make a profit out of it.
Let's look at these best and easiest ways to get a great profit in return for your blogging efforts:
Affiliate Marketing is good to go
You might be familiar with this thing called "Affiliate Marketing". It's hard to write an article about making money out of blogs without mentioning it. It's one of the efficient and common ways to generate revenue from blogging.
(with Affiliate Marketing, bloggers promote the products or services of other businesses and get a commission for every sale or lead you to bring to them.)
Take a look at this breakdown-

All you need is a niche, an affiliate product & most importantly, an audience to whom you'll promote the product. You built your audience by providing well-structured and relevant blogs related to your niche, and once this job is done then, finding products from affiliate networks isn't very hard at this time. Almost all online eCommerce websites (i.e. Amazon, Apple, Topshop, ASOS, etc.) have an affiliate program of some sort You can keep an eye on what affiliate products other blogs in your niche are promoting, and you can reach out to those businesses yourself.
Well, if you don't want to dabble around then we also have an affiliate program here at ARYSTONS. Arystons' affiliate program comes with great commissions of up to 30%. Reach out to our program for a great passive income source.
Ads monetization
As you are the publisher of a blog, advertising on your blog can provide a healthy revenue stream for your online content. 1000's advertisers out there are willing to pay to gain the exposure and attention of your audience.
The more popular and relevant your site & content will become, the more you will be able to earn
Being the blog publisher, you can offer advertising space on your website directly to the businesses that want to advertise alongside your content. Finding it hard to do? Well, you can use an ad network too- such as Google AdSense to sell your ad space on your behalf.
(AdSense serves ads relevant to the content appearing on a specific page of your blog itself. As you'll be the owner of the site where the ad is appearing, AdSense will pay you when a user will interact with an ad.)
Offer physical or digital products
Selling products directly to your audience is a great way you can monetize your blogs. Many bloggers out there even move from selling just a few items like T-shirts, grooming tools & kits, etc. to launching e-commerce websites alongside their blog.  
Sometimes, offering digital products like- software, online courses, E-books, hosting paid webinars, rather than the physical product is also a great way to solve your audience's problems and generate a good revenue stream.
Whether your products are physical or virtual, in order to make this option work, you need to be able to show you're extremely good at your work, or that your content has proven to be really valuable. It can be pretty difficult to convince online communities to pay up because of their tendency to have online things for free or thought of not being good in quality. Give your best to influence your audience and profit is yours.
revenue from sponsored post or reviews
Well, it's true that making money with sponsored posts and reviews is one of the least common ways of generating revenue through blogs. You need to have a lot of traffic and credibility to pull it off, but nothing is impossible! Right?
With this method of monetizing your blog, you'll charge a company a fee to write about their product or service on your blog and give your opinion about it.
The company's product gets exposure to your audience and the brand gets new customers.
If you think influencer marketing is only what people do on social media or YouTube then, you are wrong my friend. Writing sponsored posts on your blog is also influencer marketing, which has seen tremendous growth and is expected to have a market size of about $7 billion in 2021.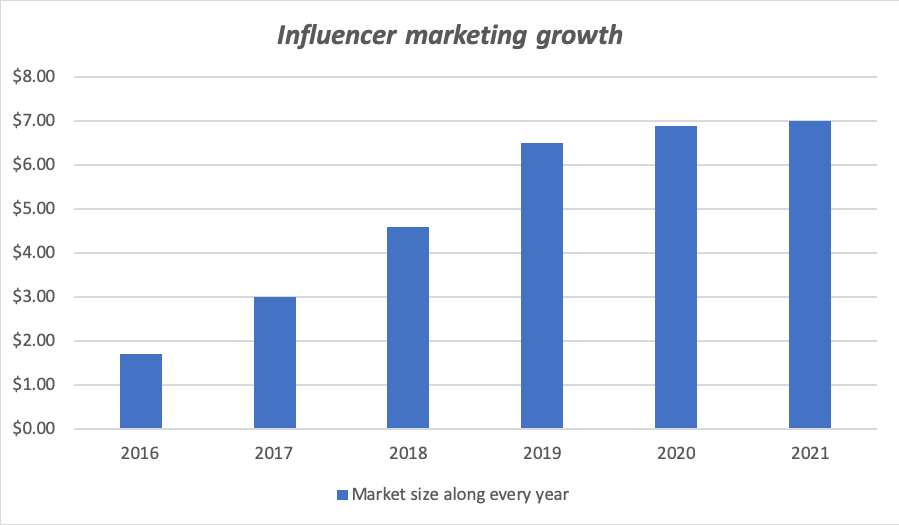 Give your honest feedback about the product you are featuring on your blog because it's essential to keep the trust of your hard-earned readers. Remember, a paid review doesn't mean a good review.
Sell E-books
In past few years, selling E-books to their audience has become the bloggers' most popular way to monetize their blogs. It's an ideal way because it's relatively easy to create and is usually priced adequately enough that most of the readers can buy.
But E-books not only help bloggers to monetize their blogs easily and quickly but also creates a way to test if people are interested in what you're covering enough to pay for it.
E-books are a low-risk way for your website visitors to judge the value you can provide them before buying products that are expensive.
Let's quickly cover up & take a look at many other ways to generate revenue from your blogging website:
Sell online courses- create an online course on a topic (it can be about teaching blogging too) about which you know more than the people you'll teach. You have to be skillful enough to present this information in a way that people will get value from.
WordPress plugins like LearnDash & Zippy Courses can make it easy to get started.
Offer consulting services- every niche nowadays has a need for consultants. You can charge by the hour for advice you are probably giving away for free on phone, email, or skype. You can start offering consulting services on your existing blog too. Just create a page with a form so users can request more information.
You can create a professional, mobile-friendly form by using WPForms. Here's a tutorial to create a request quote form in WordPress.
The revenue stream from Freelance Services- it's 2021! Do I need to highlight this method much to tell its value? As a blogger, you are already an expert in your niche. Start offering your skills and expertise as a freelancer for earning a side income.
These are invoicing plugins for WordPress as you'll need a way to invoice & collect payments from clients.
Offer services- depending on your skills and what are you good at, you can offer various services like content writing, SEO, graphic design, etc. on your blogging website to generate revenue.
Job board listings- want to make your blog "sticky"? I mean, do you want visitors to return again & again to your blogging site? Well, creating a job board on your site is a great way to achieve that. It's a great way to earn money too while also providing a valuable service. You can start by charging $40 to $50 for a 30-day listing as your beginning.
There's no doubt that Blogging is definitely a challenging field. It takes a lot of commitment and consistency to make your blog effective & valuable and then be able to monetize it properly. Don't skip further the idea of monetizing your blogs quickly but in an effective manner. The only thing you'll regret will be not starting sooner. It may be a challenge for you to compete with so many bloggers in your niche, but all you need is to stick to your niche, give your best every time and add value to your blogs.
Monetizing your blog revolves around your audience. Once you have built your strong audience base, generating revenue from your blog will no longer be a tough task for you. Start working today to make your blog your money-making machine.
To start earning from gaming, Know about it from my buddy.