''Knock-knock! You have an unread email''
You must have seen your phone telling you this all day and when you open it, you see so many promotional emails asking you to buy their product/ service.
Moreover, you at times end up purchasing the product or service. Imagine how powerful this tool is!
It can boost your sales in no time if used properly.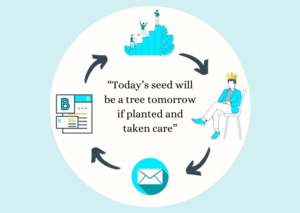 "Today's seed will be a tree tomorrow if planted and taken care"
What is Email Marketing?
The very effective digital marketing technique of sending emails to prospects and consumers is known as email marketing.
In other words, when you mail your subscribers about your product, service, or anything else, for example, inviting them in your webinar, etc) is called email marketing.
A well-thought-out email marketing strategy can help you achieve a variety of long- and short-term goals which will benefit your brand.
Automated routine mails are all about transactional and trigger emails. You can use this to launch automated messages in response to your clients' behaviors.
Welcome and on-boarding series, registration confirmation, abandoned cart email, order confirmation, password reset email, and reactivation emails are examples of such emails. By managing these tasks manually, you will save money and time.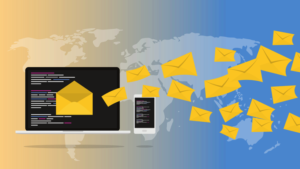 Why is it popular?
Email marketing is a popular model because it is one of the most effective ways to remind your audience about your business.
Customers respect honesty and straightforwardness.  For instance, you can share with them the links of DIY tutorials, checklists, and video instructions and drive traffic to your website. With reviews and testimonials, you may raise brand recognition and establish credibility.
Furthermore, this type of marketing adds to personal relations somewhere and gives the receiver a feeling of trust.
Does it help in conversion?
There is no doubt about the effectiveness of Email Marketing. Did you know 99% of the people open their mails daily? When your audience is amongst this 99% of the people then the answer is transparent!
Email Marketing does help in conversion if you understand your target audience and write email marketing text that suits their demands/ interests.
What is the importance of email marketing?
Developing a great email marketing plan allows you to engage and connect with your target audience in a personal manner, increasing sales at a low cost. The significance of email marketing stems from the fact that it is a low-cost solution that allows you to contact customers in remote areas. However, ROI isn't the only reason why email marketing is worth your time and money.
To discuss the importance further, the following are the six reasons for the importance of Email Marketing and how it is beneficial for your business:
Environment friendly: First and foremost, Email marketing is environment friendly because no paper is used.  It is better for the environment than direct mail marketing/ traditional way of marketing.
Brand recognition: You can effortlessly brand your emails with email marketing. However, brand recognition extends beyond design. By continuously offering great information to your audience, they will begin to know and even anticipate your emails.
Increase your sales: Email marketing can be used to sell to prospects, increase referrals, and up-sell current clients. The reader is more likely to take action if your email content is relevant and focused. Email marketing is an excellent approach to persuade your target audience to make a purchase. It has the highest ROI in comparison with other types of marketing.
Saves time and money: Individual email marketing can be customized and targeted to your readers. To begin with, the costs of email marketing are quite minimal, especially for small firms. Email marketing is set on autopilot in terms of time commitment.
Increase traffic: Emails are an excellent approach to encourage clients to visit your website or blog. Within your email text, you can insert relevant connections to your website. A local design school, for example, may send out emails to promote a new design class with a limited number of seats.
Market with a personal touch: Email marketing allows you to collect and split your audience into lists and engage with them based on their interests, purchasing behavior, geography, and other factors.
What are some cones you need to be careful about?
One of the most significant advantages of email marketing as mentioned above is that it has the highest ROI (return on investment) of any kind of marketing, averaging over $42 for every $1 spent.  But it can backfire too and this is why it is crucial to make certain your mail is perfect.
If your emails aren't being sent to the targeted people, the recipient may delete or unsubscribe. Make sure your email marketing adheres to privacy and data protection regulations. Your emails must be crafted in such a way that they look the same on all devices and email providers.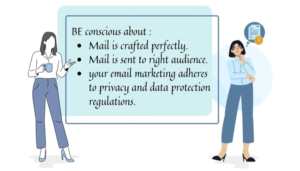 Why do you need to do email marketing?
Email marketing for your products or services can be a quick, flexible, and cost-effective approach to attract new customers and keep existing customers by promoting repeat website visits.
You can use email marketing to send targeted and personalized communications. This might assist you in developing meaningful ties with your customers. It can help boost response rates to your direct marketing campaigns.
For small businesses, this is one of the best ways to do marketing and build recognition.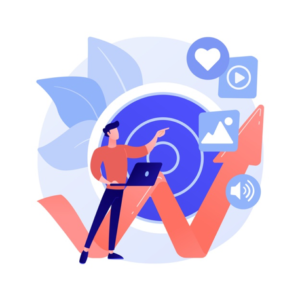 Synopsis
Email marketing is incredibly useful for business owners, especially for small businesses. It's time to rethink your email marketing approach if you've been ignoring it.
For marketers who are ready to learn how to do it correctly, email marketing has a significant payoff. It doesn't have to be overly difficult.
Always keep in mind that you're a visitor in your subscribers' inboxes. Your subscribers are always one click away from losing interest in your emails. Be pleasant, respectful, and helpful.
You should keep your promises. Give your audience what they've requested and send them emails on a regular basis that meet their needs.